COVID-19 and Thailand's Elephants
Elephants have been kicked out of camps and deprived of proper care. The vets are seeing an increased number of elephant deaths and emergencies caused by gastrointestinal issues. Without income from tourism, many camp owners can't afford to hire enough staff to provide proper care and exercise for the elephants.
As tourism continues to be largely shut down in Thailand. International travel is severely restricted and interprovincial travel for nationals is forbidden. Chai Lai Orchid was forced to close again this past month. Though our business revenue has temporarily ceased, our passionate care for our elephants has not. While we hope restrictions will ease up soon, but until then we are in desperate need of help paying for the food and care for our rescued elephants.
share with friends to help raise awareness
Due to increasing habitat loss, most Asian elephants have to live in captivity and depend on tourism to eat. Covid 19 travel restrictions have caused many elephant camps to close. This sudden unemployment for elephants means that they have no food and no place to live. Many are having to take difficult 1-3-day journeys walking back to their villages. These journeys are dangerous not only because of traffic but also starvation dehydration and overheating.  If you can, please donate to help feed these incredible animals.
Since the recent implementation of travel restrictions due to the COVID-19 virus, many elephants have become homeless, along with their caretakers, who have no means to buy food for the animals in their charge. A single elephant eats 200 Kilos of food each day. Since all tourist attractions have been closed, this includes elephant camps. Without tourists, some smaller elephant camps cannot afford to feed their elephants. As a result, elephants and their mahouts (already low paid and vulnerable workers) find themselves marginalised.This fund is set up exclusively for elephants owned by Karen people in this situation.  
Contrary to what anti-elephant tourism campaigners believe – that elephant tourism is bad for the elephants – because they are domesticated elephants the opposite is actually true. And this is being borne out even more so due to the current situation. This sudden unemployment for the elephants means that not only do they have no food, they also no longer have a place to live. Mahouts and their elephants find themselves having to walk for between 1 and 3 days back to their villages. These journeys are often dangerous and challenging as they avoid traffic and face dehydration, overheating, and tragically in some cases, starvation. 
We appreciate it is hard times for everyone. But the elephants need your help!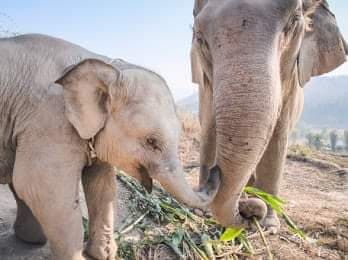 Many of you have enjoyed amazing elephant experiences in different parts of Asia. Many of you, we know care deeply about animals and elephants in particular. We believe that many of you will care that captive elephants are suffering now more than before. Please donate whatever you can to help feed elephants during this difficult time. Chai Lai Orchid community members like Charlie and Tiger have volunteered to facilitate this project for free to ensure 100% of donations go to the food for the elephants who are now hungry and /or homeless. Thank You on behalf of the elephants, you for all your kindness. We have been able to buy lots of nutritious food and also medicine for the elephants and we come we can all get through this together.
Does your company or classroom want to sponsor an elephant? Contact us explore@chailaiorchid.com